home cooking recipes – lentil and quinoa burgers
These vegan friendly burgers are packed with healthy pulses and are an excellent substitute for the real thing whilst still remaining juicy, satisfying, and full of flavour. The mix can be made up to 48 hours before and can also be frozen.
SERVES 4 – COOKING TIME 35 mins – VEGAN
Ingredients: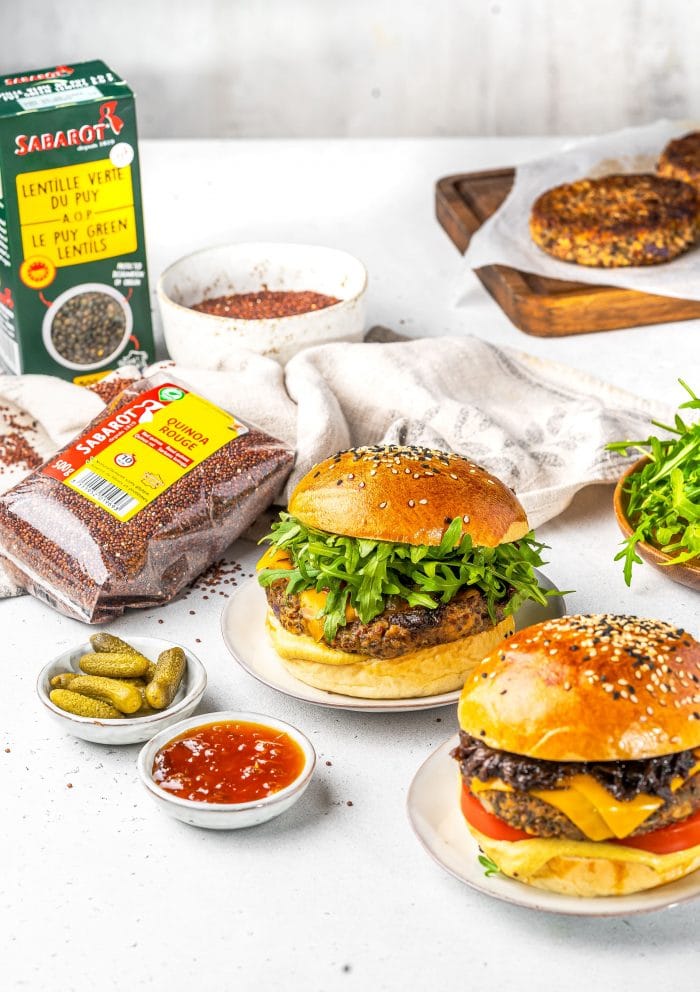 185g cooked Sabarot red quinoa
300g cooked Sabarot green lentils
For the flax mix:
1 tbsp flax seeds mixed with 3 tbsp water
half a diced onion
2 minced garlic cloves
1 tbsp cumin powder
1 tbsp smoked paprika
40g oats blended to a powder
1 tbsp Wasabi Company organic soya sauce
1 tbsp Tuberfoods truffle BBQ sauce
2 tbsp nutritional yeast
Tasty toppings to garnish:
Jones cornichons
Method:
Soak flax seeds in water and leave aside.
Place a pan on medium heat and sauté onions and garlic for 5 minutes. Deglaze the pan with aa splash of water and continue to cook until onions are translucent.
In a bowl, mix the flax, soya sauce, bbq sauce, cumin, paprika, yeast, and a pinch of salt and pepper.
Mix, this in a separate bowl with your lentils, quinoa, and onions. Use a potato masher to mash away until the mixture is thick and slightly sticky. The lentils should be mashed, but its okay if a few whole ones remain.
Shape into 4 patties and chill in the fridge.
Add some olive oil to a pan over medium heat. Place the patties in the pan when the oil is hot and cook for 7-8 minutes on each side until caramelised.
Pile up your creation between sourdough buns, garnishing it with our suggested toppings plus rocket leaves for a peppery crunch.